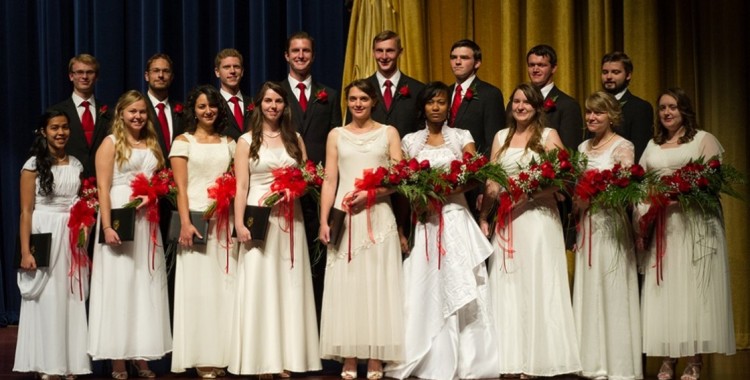 Chancellor Gerald Flurry Expounds on Transcendent Education at Herbert W. Armstrong College Commencement
Chancellor Gerald Flurry spoke about education during his Herbert W. Armstrong College commencement address on May 18, 2014. He told the audience that HWAC education transcends America, history and time itself as it will God will one day teach this education to the world and beyond.
Chancellor Gerald Flurry then used the British Empire as an analogy. The British Empire was a massive empire that changed history and through its affects has even transcended time. The empire brought prosperity and civility to poorer, weaker nations. He said, "That's something that inspires and moves us," he said. "That is, in a nutshell, what Armstrong College is all about." HWAC is a character building institution just as a lot of character went into building the British Empire, according to Mr. Flurry.
17 seniors and 25 sophomores graduated in the ceremony to an audience of 500 friends and family in the Armstrong Auditorium. The ceremony took about an hour and began with a processional march. The Imperial Academy orchestra played excerpts from "Crown Imperial" by William Walton as faculty and students filed into the theater. The audience stood and clapped.
The student body president gave a student address which was followed by a choral performance by the HWAC Choral Union. They sang "May the Road Rise to Meet You," composed and conducted by assistant music director of HWAC. They also sang "Largest Audience Possible" from the music director Ryan Malone's Morning Star musical.
After the choral performance, Gerald Flurry gave the commencement address. Dean of Students Stephen Flurry followed the chancellor's address by presenting a Herbert W. Armstrong Achievement Award to two seniors. Afterward, the chancellor, dean of students, and registrar Jason Hensley presented diplomas to the sophomore and senior classes.
At the end of the ceremony the faculty and students received a standing ovation as they proceed out of the theater into the lobby. There friends, family and faculty congratulated the graduates and chatted for several hours.