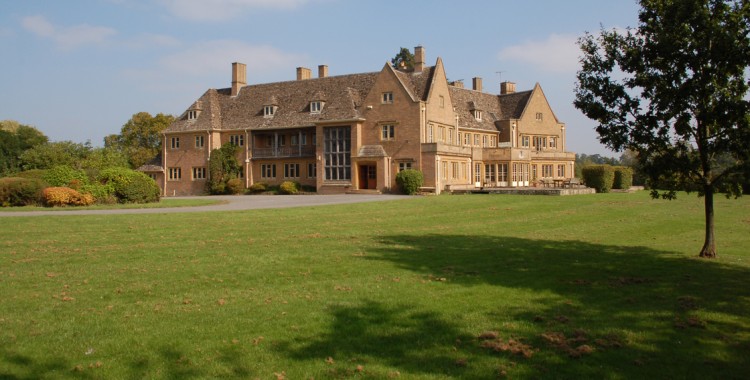 Gerald Flurry Purchases Edstone Hall in England—Philadelphia Church of God
Gerald Flurry and the Philadelphia Church of God purchase Edstone Hall in England.
WARWICKSHIRE, ENGLAND—Philadelphia Church of God Pastor General Gerald Flurry flew to England on May 8, 2014 in search of a sister campus for the church's headquarters campus in Edmond, Oklahoma. Efforts to acquire a campus in England began the previous year, when the church made an offer on a portion of the Bricket Wood estate, including its mansion, Hanstead House. This St. Albans estate is where the late Worldwide Church of God founder Herbert W. Armstrong established an Ambassador College campus. Mr. Flurry announced the offer in July 2013 during the pcg's annual Philadelphia Youth Camp in Edmond.
The process proved to be slow-moving and fruitless over the next nine months, so Mr. Flurry decided to look for a campus elsewhere. During a visit to the United Kingdom in 2014, Mr. Flurry and his son visited six potential estates. They said all of the sites were impressive, but that only one stood out. On May 14, the pcg submitted an offer for a prestigious Warwickshire estate, which was quickly accepted. The purchase was finalized in early June.
Acquiring the keys to Edstone Hall wrapped up a two-year expedition for the new campus in England. From there, church officials prepared the estate for the upcoming Herbert W. Armstrong College academic year and for the church's work in Europe. Contractors renovated the aging building. Local pcg members gathered on several occasions for work parties. Updates to Edstone Hall continue to this day, as United Kingdom/Europe regional office staffers and contractors update fixtures and appliances and install new flooring and walls.
Edstone now houses a television studio where presenter Stephen Flurry records Key of David programs broadcast to millions of homes throughout the United Kingdom and Europe. The work has grown significantly in England under Mr. Gerald Flurry's direction and is making an impact in a worldwide way. As progress continues at a rapid pace, look for new projects and opportunities coming out of Great Britain.
Edstone Hall: Warwickshire, England