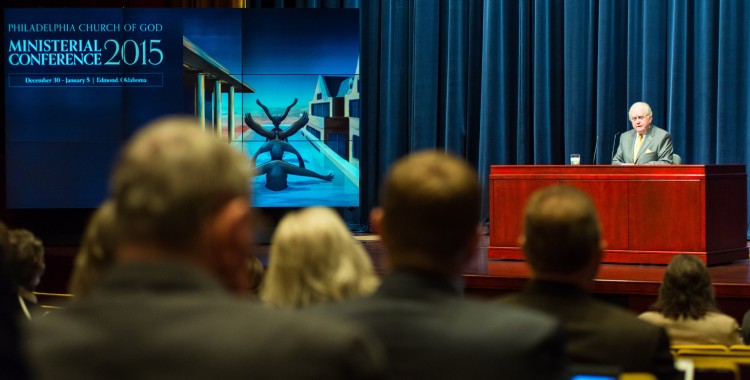 Philadelphia Church of God Ministerial Conference 2015
The Herbert W. Armstrong College campus welcomed 59 ministers from 10 countries and 14 American states for five days of practical instruction during the 17th Philadelphia Church of God ministerial conference. The conference lasted from December 30 until January 5.
Gerald Flurry and 11 other of these men gave 18 lectures totaling 33 hours and 45 minutes of exciting instruction. All of the lectures were given from the stage of the elegant Armstrong Auditorium located on the college campus in North, Edmond. Mr. Flurry, pastor general, gave four conference messages, two of which were recorded for all PCG members to listen to.
College students were able to serve during the conference in setting up the various amenities that were offered to the ministry throughout the duration of the conference. Students also helped serve on a wait-staff, serving the PCG ministry food throughout the conference, including a formal dinner hosted for all Church employees to attend as well.
Ministers were also able to watch the Herbert W. Armstrong College music department's recital from the same stage of Armstrong Auditorium. Students showcased their talent and progress they have made over the past semester. The college has a very advanced music program with very skilled instructors who have performed in professional concert series. Local concert goers in Edmond also came to watch the event.
For the few and scattered ministers, the ministerial conference is an opportunity to build more unity with their fellow travelers. Philadelphia Church of God members were admonished to pray for the weather, good health for the ministers, and a strong conference theme centered around Gerald Flurry's messages and bolstered by every speaker. Comments about the success of the conference were mentioned from all who attended and worked the event.